Environmental Projects
Featured Initiatives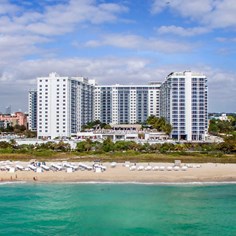 1 Hotel South Beach
Our 1 Hotel South Beach is at the forefront of leading-edge sustainability practices. Designed with biophilic design principles for both environmental and human health purposes, the hotel is LEED® Silver-certified and was built using recycled materials—including reclaimed and repurposed wood from Alaska and Colorado. Energy and water consumption are monitored in real-time across the entire property. The hotel also employs compostable room amenities and reusable wooden key cards to support its Plastic-Free Initiative, as well as a composting machine to separate organic waste. Additionally, the hotel has partnered with Food Rescue US to donate leftover food from events to nearby shelters and Debris Free Oceans to help eradicate marine debris.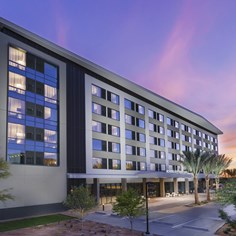 AC Hotel Scottsdale North
Host applied leading sustainable design and construction principles and achieved LEED Silver certification at the new AC Hotel Scottsdale North, a 165-key ground-up development on an underutilized parking lot alongside The Westin Kierland Resort & Spa. Built with non-toxic paints, coatings, flooring, ceilings and insulation, the property was also designed with tree shading and light-colored paving and roof membrane to mitigate heat island effect. Over 98% of stormwater is managed off-site by a catch basin on an adjacent golf course, and natural lighting is featured throughout the property. Over 90% of spaces have access to quality views to the outdoors and the scenic Arizona landscape. Opened in January 2021, the hotel is designed to maximize energy and water efficiency. The building's energy performance is estimated to be 15% more efficient over baseline building types. We also anticipate a 28% increase in indoor water efficiency from low-flow plumbing fixtures. Additionally, we have installed a rooftop solar photovoltaic array to offset 10% of building energy usage.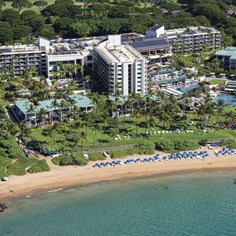 Villas at Andaz Maui at Wailea Resort
The new Ilikai Villas at Andaz Maui at Wailea Resort is pursuing LEED Silver certification. Nearly $1.7 million of sustainable products and materials contributed toward LEED credits, including 33 products with environmental product declarations, 20 products with sustainable raw materials and nearly 20 products with health product declarations or Cradle to Cradle certification. Nearly all paints, coatings, flooring, ceilings and insulation met low-VOC requirements to further improve indoor air quality and guest wellness. Additionally, a rooftop solar PV array generates over 45% of building electricity usage, for a total of 360 kilowatt, 1,027 panel system that generates 570 megawatt-hours annually representing nearly 9% of the electrical load at the resort.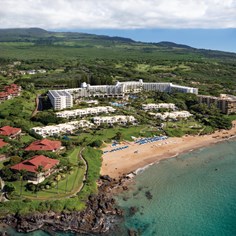 Fairmont Kea Lani, Maui
In 2021, the hotel launched Rooted in Aloha, a reforestation initiative in partnership with Skyline Conservation. As a part of this program, the Fairmont Kea Lani, Maui will target planting 5,000 trees by 2024 along the slopes of Haleakalā in honor of the resort's 30th anniversary. The resort also has a 752 kilowatt, 2,228 panel solar PV system that produces over 1200 megawatt-hours of electricity annually reducing the electricity load by over 14%.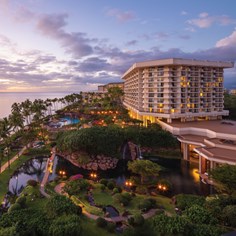 Hyatt Regency Maui Resort and Spa
Hyatt Regency Maui Resort and Spa received LEED EBOM Gold Recertification. The property is estimated to save of 670,408 kBtu of energy, 184,216 kgCO2e in carbon emissions, and 27,959 kGal of water annually. Some of the property's featured sustainability initiatives include a food waste diversion program through which fruit and vegetable scraps are sorted and donated to local pig farms for feed and compost, high-efficiency shower heads in all guestrooms that reduce water consumption by over 30% and an Integrated Pest Management plan that outlines effective pest elimination using non-toxic methods. The property also features an on-site, self-guided sustainability tour to educate guests, visitors and associates of these efforts. The resort also has a 710 kilowatt, 2,142 panel solar PV system that produces approximately 10% of the total electricity load.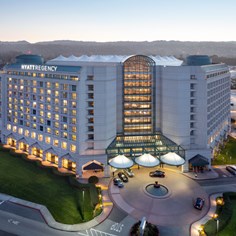 Hyatt Regency San Francisco Airport
Hyatt Regency San Francisco Airport is Host's seventh LEED property and the first to receive LEED EBOM Gold Certification. The property achieved a Performance Score of 71 (out of 90) for demonstrating efficiencies in energy, water, waste, transportation, and human experience. Some of the property's sustainable features include pervious pavement that allows rainwater to be absorbed directly into the ground and protects ecosystems by preventing contaminated runoff water from polluting the nearby bay, recycling and composting initiatives that divert an average of over 92% of building waste from the landfill and two high efficiency chillers that will result in an estimated savings of over 430,000 kilowatt-hours per year.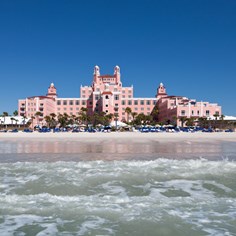 The Don CeSar
At The Don CeSar, new kitchen food waste technology has been installed that utilizes artificial intelligence and visual recognition to identify which items are being discarded and then analyze the cost of that waste. Over a six-month period, the technology had a return on investment of over 100%. This food waste weighing calculation system is comprised of both a physical scale and a software system that weighs food waste by component parts coming out of the main restaurant. Based on information output, changes to portion size or non-sellers can be made to limit overproduction, reduce waste and improve profitability.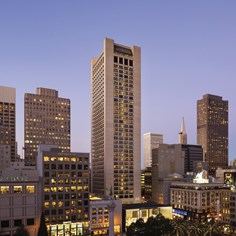 Grand Hyatt San Francisco
In addition to a 5 Green Key rating, the Grand Hyatt San Francisco is certified through the California Green Lodging Program by demonstrating water and energy conservation, waste minimization, recycling, environmentally friendly purchasing, program sustainability and pollution prevention. As part of Hyatt's Global Care & Cleanliness Commitment, the hotel also achieved the Global Biorisk Advisory Council (GBAC) STAR™ accreditation by proving its approach to cleaning, disinfection and infection prevention to protect visitors, guests and hotel staff.